Connectivity pioneer VNC Automotive to attend the 48th NAPFM conference for police, emergency services and government fleets
Demonstrations of the company's In-Vehicle Infotainment (IVI) integration products will be running on numerous stands across the event
NAPFM takes place at The International Centre, Telford, UK, 5-6 July
VNC Automotive will be attending the 48th National Association of Police Fleet Managers' (NAPFM) Conference in Telford, UK in July. The company's now hallmark solution for law enforcement & first response vehicles, Cobalt Cube®, is back and more powerful than before. This year visitors will be able to experience demos of Cobalt Cube® across the show floor and see first-hand how fleets can benefit from combining mission critical systems into a single interface, no matter the vehicle type.
The culmination of more than a decade of experience working with vehicle manufacturers and police forces around the world, Cobalt Cube enables multiple devices to be controlled through the vehicle's built-in touchscreen, removing the need for bulky aftermarket hardware.
Systems such as ANPR, lights and sirens can all be controlled through the vehicle's existing display, while officers can interact with PC- or smartphone-based applications through the vehicle's touchscreen without needing to access the device directly.
By removing the clutter, occupant safety is improved and workflows are more efficient, while the simplified installation greatly reduces the total cost of ownership. As the dashboard remains completely intact, the vehicle's residual value is preserved once it reaches the end of its fleet life.
"We saw an opportunity to make real ergonomic and economic improvements to the cabin spaces of law enforcement and first response fleets."
"Coming from over a decade in the converging tech and consumer vehicle industries, we saw an opportunity to make real ergonomic and economic improvements to the cabin spaces of law enforcement and first response fleets," said Tom Blackie, CEO, VNC Automotive. "Our work with the Dodge Charger Pursuit several years back showed us the value of a more connected approach. Since then, we've launched Cobalt Cube and its success across police forces around the UK, US and beyond shows a real appetite from the industry to make emergency fleets more efficient and safer than ever."
The device is rapidly finding favour with vehicle integrators, too, as it provides the mechanism to deliver complex functionality that would previously have been impossible. This year, visitors to NAPFM will also be able to see Cobalt Cube in use on the stands of Standby RSG and VCS.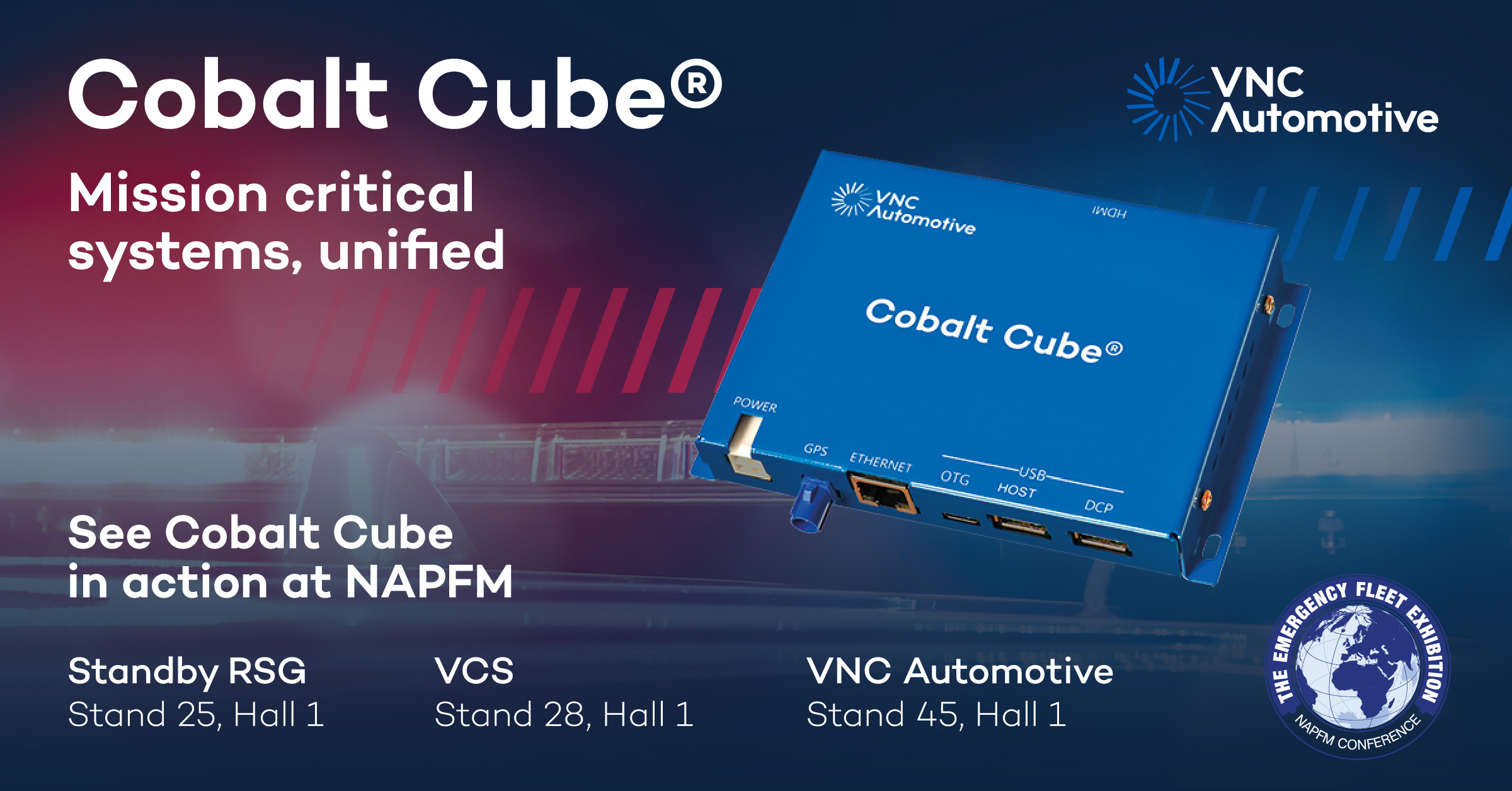 Now in its 48th year, the Emergency Fleet Exhibition and NAPFM Conference has established itself as one of the largest emergency service fleet events in Europe. With a focus on transport for ambulance, police, fire, and rescue services, the event attracts exhibitors and attendees from across the emergency services sectors, as well as local authorities and government agencies.
VNC Automotive can be found on stand 45 at the NAPFM conference.