As the industry expo behemoth rolled into Barcelona once again, bringing with it over 100,000 visitors with an appetite for all things mobile, we put on our comfortable shoes and joined more than 2,400 exhibitors showcasing the latest and greatest tech that the industry has to offer.
Automakers in abundance
Automotive imposter syndrome has long since disappeared at MWC, it is now an undeniably important pit stop for automakers innovation, infotainment, assisted and autonomous, connectivity and embedded engineering teams. Evidenced too by the volume of exhibiting OEMs, cars, trucks, keynotes and specific show floor tours dedicated to automotive and mobile. The potential of the "4th screen" in-vehicle for personalised content consumption and location-based advertising seemed to get the journalists pretty excited too.
 So, if you are keen to steal a glimpse of the future when automotive and mobile fully converge, you could do worse than using MWC as your crystal ball.
On the closing day of MWC19, with brochures and giveaways depleted but with caffeine and sugar levels at an all-time high, we caught up with Tom Blackie, CEO and Founder here at VNC Automotive, to discuss the automotive insights from this year's show.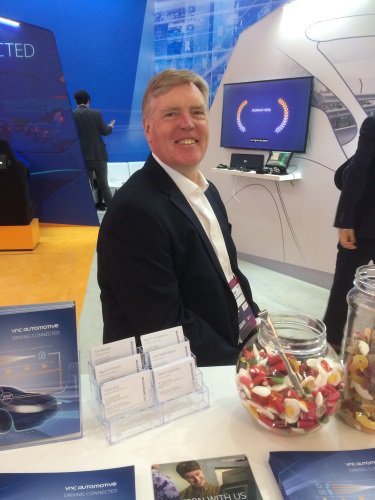 "It's been fantastic. There's more and more automotive focus every year that we come here."
What has MWC19 been like for the automotive industry?
"It's been fantastic. There's more and more automotive focus every year that we come here. We've been inundated with automotive OEMs and Tier 1 equipment suppliers – it's a who's who of the automotive industry – all talking about new and exciting technologies. In that regard MWC19 has been fantastic for the automotive industry."
It's the eleventh year we've been at the show – and the first year as an independent company. What themes have you seen over those years when it comes to automotive and mobility?
"In the last eleven years the concept of connecting phones to cars, and cars to the cloud, has evolved massively and become much more prevalent. Everybody's asking about it, everybody wants it. In fact, it's moving from a nice-to-have premium feature to a must-have mandatory component. I tend to think of it as comparable to Bluetooth, which started as a high-end premium solution and is now ubiquitous.
"We're just at the beginning of the growth curve in terms of phone connectivity. At the moment, despite the marketing hype, probably around 20% of cars have some kind of connectivity capability. I suspect that within the next five years the penetration is going to be around 80-90% as standard."
What is VNC Automotive showcasing this year that people may not have seen before?
"We've been working in the automotive space for about ten years now. We're very well known for connecting phones to car screens, bringing apps from the phone to the car dashboard. But recently we've done a lot of work to support many different protocols. There's lots of ways that people want to connect phones to cars such as CarPlay and Android Auto as well as proprietary solutions."
"Yet no single solution covers all phones, all cars or all global markets. What we're doing is building a connectivity environment that's agnostic to different protocols. We support all platforms and spend a lot of time making sure they work well together. In fact, we have a few unique features that you won't find anywhere else. For example, we can plug in multiple phones simultaneously, running, for example, CarPlay and Android Auto at once. That allows the driver and passengers to interact with any of these connected phones simultaneously. We've been showcasing that over the last few days and delegates from right across the automotive industry are really appreciating the benefits it brings."
"In terms of brand-new stuff that we're showcasing, recently we launched full remote control of iPhones."
In terms of what we've been demoing, what's proven most popular among delegates here at MWC19?
"As well as phone connectivity we've been talking about the car connecting to the cloud. One of the use cases is a black box telematics solution. It allows automotive OEMs to install a telematics box (or T box) in their vehicles that's connected to the dashboard screen, which means the dashboard screen can be a simple, highly secure, fixed solution. The connection to the T box facilitates the usage of widespread applications, such as regionalised navigation maps and fleet management applications."
"What's interesting is that this technology will revolutionise the lifecycle of the software used in car connectivity. Essentially the software embedded in the vehicle can remain the same, but you can replace the T box cost-effectively to keep customers up to speed with new applications as they arrive – such as high definition maps, 3D maps and applications that we can't even yet conceive of. Thanks to upgrading the T Box, brand new applications will be able to be used in a ten-year old vehicle. For OEMs it means their vehicles are future-proof; for end users it means a radically simplified IVI experience."
Read more about how our partnership with Alpine Electronics is set to revolutionise infotainment
5G has been a big theme at MWC19. How will it affect the automotive industry?
"Numerous organisations demonstrated the enhanced riches awaiting with 5G, including Qualcomm Technologies and Ericsson. Indeed, 5G promises high capacity connectivity, multi-gigabit data speeds and barely-discernible latency – and it will be a necessary precursor for the era of autonomous vehicles."
"And yet while the technology, in theory, is possible right now, the reality is that we are some five or so years away from the widespread availability of 5G. That's why it's worth maintaining a sense of perspective before getting carried away with the claims of some manufacturers."
"However there remains plenty of scope for innovation with the 3G and 4G network. The key is to use what we have at our disposal wisely. For example, it's possible to use 3G connectivity and telematics to enable customers to communicate with their car hire company if they encounter problems during a journey."
"Let's say a warning light comes on or the driver is uncertain of how to stream media to their kids in the backseat. Using existing technology, it's possible to connect the driver directly with an agent from the hire company. That agent can see the same dashboard that the driver sees in real time, even connecting with the vehicle and resolving the issue remotely."
"5G might be here. But 3G & 4G still have plenty of mileage."
Here's to next year
Wind the clock back eleven years and the concept of connecting phones to cars was still in its formative stages. Flash forward to today and secure, stable vehicle connectivity is high on the agenda and double-underlined. Each year the automotive industry has a larger presence at MWC as the highways of mobile and automotive merge. Here's to a long and fruitful journey.