In an emergency situation, every second counts. That's why we are so pleased that IVI connectivity software pioneered by VNC Automotive is being used to help first responders answer emergency callouts with more efficiency and enhanced safety. Here's a quick introduction.
No more laptop, lots more space
Have you ever seen the inside of a US police car? Space is at a premium. A laptop that provides access to mission-critical systems leaves little room for the officers. It also poses a safety risk in a collision.
VNC Automotive has developed proprietary software that allows officers to stow the laptop in the trunk, accessing mission-critical systems via the IVI touch screen. Integration is seamless, space is optimised and safety is enhanced.
The results are transformative. Imagine trying to squeeze two officers, in full protective uniform, into the front of a patrol car when half of the passenger side is occupied by a ruggedised laptop. At best it's uncomfortable for an 8-12 hour shift, at worst it's a significant safety risk. The move to remote access via the IVI touch screen, with the laptop now stowed in the trunk, radically enhances safety for both officers, mitigating the risk of injury in a collision. And because it's now easier and more intuitive for officers to access mission-critical systems via the touch screen, drivers are better able to concentrate on the road. Safer, smarter and more streamlined.
And that's just the start of the benefits.
"More officers are killed in road traffic accidents than by attacks from assailants."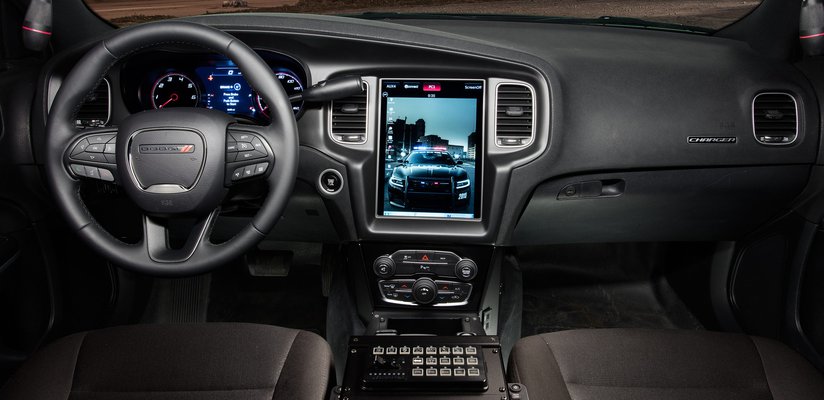 Cloud integration allows contact centres to control systems
More officers are killed in road traffic accidents than by attacks from assailants. In an emergency response or pursuit situation, the ability of the officer to focus on the road is a matter of life and death. VNC Automotive's software allows mission control centres to connect with patrol vehicles in real-time, controlling certain systems such as sirens and providing crucial navigation information to its officers driving the vehicle. Contact agents at mission control can even send CCTV footage to the vehicle to be played back on the IVI screen. And if an officer has to leave the car suddenly? The contact agent can use the cloud technology to lock the vehicle; as well as being able to control cameras and make announcements via the vehicle PA system.

Smartphone integration
Using VNC Automotive's software, emergency responders can also connect their smartphone to the head unit – enjoying full access to smartphone-native content, applications and services from the IVI system. Whether it's making calls, taking calls or interacting with smartphone-native content that's unavailable on other devices, it's now simpler and safer for emergency service operatives to use their smartphones on the move.
The opposite is also true, with drivers having the ability to control mission-critical vehicular systems using their smartphone. Imagine, for example, that an officer has left their vehicle to pursue an assailant on foot. With an integrated device they have the ability to control vehicle systems using their smartphone – even sirens, door locks and more. It's revolutionary, and it can save crucial seconds during an emergency situation.
Too good to be true?
This technology isn't fanciful thinking. It's already in use in thousands of vehicles across multiple US states thanks to VNC Automotive's integration with the Dodge Charger Pursuit's UConnect 12.1 IVI system, dramatically improving safety and efficiency.
As a use case the innovative thinking shown in the Dodge Charger Pursuit illustrates how all emergency vehicles can benefit from the transition towards connected devices and integrated IVI platforms for mission-critical systems. If you would like to know more, please get in touch.

VNC Automotive will be exhibiting at the Emergency Fleet Exhibition, Stand 88, 11-12 June, Telford, UK.